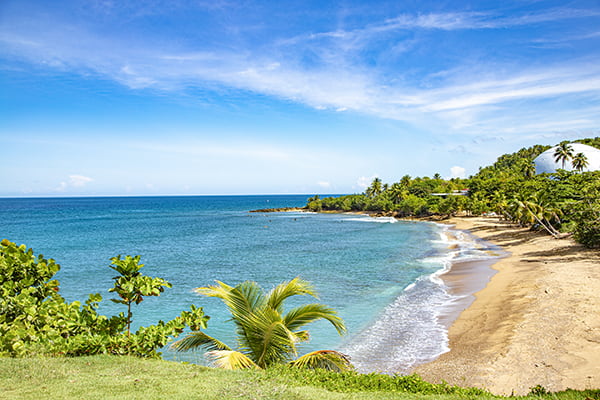 Rincon is one of the best surf spots in Puerto Rico. With beautiful beaches, laid back bars and restaurants, Rincon is a great chill spot in PR.
While there are a ton of things to do in Rincon. Filling your medical marijuana prescription shouldn't be a hassle.
Finding a cannabis dispensary near you in Rincon is quick and easy with our helpful guide.
Before traveling, you should familiarize yourself with the marijuana laws in Puerto Rico.
How we rank. Our rankings are based on averages between CannaCarib Reviews, Google Reviews, Weedmap & Leafly users. If no ratings are available, we sort alphabetically.
One of the first dispensaries on the west side of Puerto Rico. The Health Teapot offers a large variety of medical marijuana products. From edibles and topicals to cannabis flower and concentrates.
Friendly staff and knowledgeable staff are able to help you make the right choice for your medical condition. Safe and secure location with a security guard present at all times.
Hotels near The Health Tea Pot: Coconut Palms Inn & Rincon Inn
Google – 4.1
WeedMaps – 4.5
Leafly – N/A
Total Reviews: 26
I love this place. The employees are personable and knowledgeable. Good selections and great promotions. I enjoy this place more than my Mayaguez store.
The owners of The Green Room are always present, and strive for exceptional customer service. Committed to educating medical cannabis patients.
The Green Room offers a variety of cannabis flower, concentrates, edibles and topicals.
Hotels near The Green Room: Villa Cofresí Hotel, Rincon of the Sea, Sea Beach Village, Pelican Beach Village, and Rincon of the Seas Grand Caribbean Hotel.
Google – 4.6
WeedMaps – 3.0
Leafly – N/A
Total Reviews: 21
Excellent customer service. Excellent selection
Excellent variety of flowers.
I love.
Didn't find what you are looking for? Check out our full list of dispensaries in Puerto Rico to find exactly what you need!