So you are looking for information on marijuana in Puerto Rico? If you are traveling to Puerto Rico looking to indulge, it's good to know the local law.
This local's guide to Puerto Rico marijuana laws will inform you on everything you need to know!
Is Marijuana Legal in Puerto Rico?
Marijuana in Puerto Rico was criminalized in 1932 with the passage of the Act 12. For 83 years cannabis remained illegal. Medical marijuana was signed into law by executive order in 2015. Puerto Rico is unique in having medical cannabis, but not decriminalizing weed. Possession of cannabis in Puerto Rico carries stiff penalties without a medical card.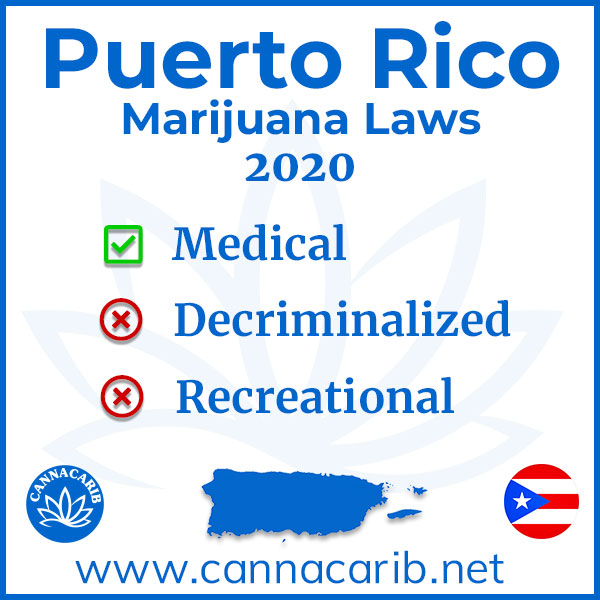 Brief History of Marijuana in Puerto Rico
Marijuana was made illegal in 1932.
In 2013 cannabis failed to be decriminalized.
An Executive Order in 2015 removed mandatory jail sentences for less than 6 grams.
Medical Marijuana was enacted by executive order in May 2015.
Act 42-2017 was signed July 9th, 2017. This act repealed the initial executive order and enacted a full legal framework for medical marijuana.
The first cannabis dispensary opened in June 2017.
As of July 2019, Puerto Rico has 92,499 medical marijuana patients.
Decriminalization
Is Weed Decriminalized in Puerto Rico?
Marijuana is not decriminalized in Puerto Rico. Possession and use of cannabis in Puerto Rico carry big penalties. Non-medical patients can get 2-5 years of jail time if they are caught with cannabis.
However, in September 2015 Governor Padilla signed an executive order. The new law ordered judges to no longer sentence offenders to prison for less than 6 grams of cannabis. So you can still be arrested for having marijuana in PR without a medical card.
In 2013 the legislature attempted to remove penalties for under 1 ounce of cannabis. At the time, 70% of Puerto Rican's opposed marijuana decriminalization. No polls have been conducted since then.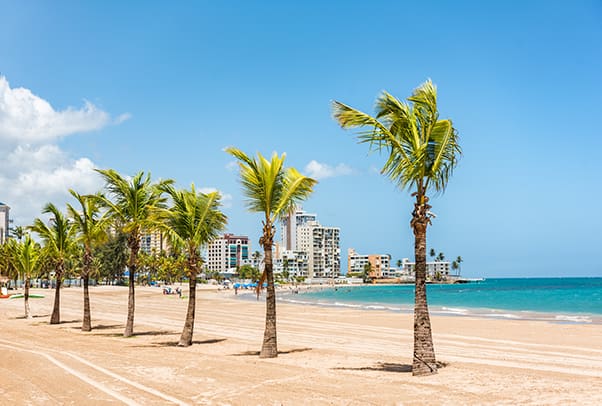 Cannabis is NOT Decriminalized!
If you are caught with any cannabis in Puerto Rico, you will be arrested!
You must have a medical cannabis card!
Medical Marijuana
Is Medical Marijuana Legal in Puerto Rico?
Yes! Governor Alejandro Garcia Padilla's executive order paved the way for medical marijuana in 2015. Act 42-2017 was passed on July 9th, 2017. The law repealed the Executive Order and regulations proceeding it. It's now the current medical marijuana law in Puerto Rico.
Puerto Rico's medical cannabis is one of the most liberal in the country. Any medical practitioner can prescribe cannabis for any reason. The top medical reasons for marijuana prescriptions are Anxiety Disorders and Depression.
After 2 years of delays, medical cannabis was available for purchase in Puerto Rico. Rules and regulations for the cannabis industry were finalized in 2017. With the first cannabis dispensary in Puerto Rico opening in June of that year.
Unfortunately it did not last long, with a major set-back in Category-5 Hurricane Maria. Landing a direct hit on the island in September 2017, only 3 months after the budding industry began.
Since then, the medical cannabis industry has exploded. As PR rebuilt from the hurricane's devastation, so too has it's marijuana businesses.
Puerto Rico has 92,499 registered cannabis patients as of July 2019. With 87 medical marijuana dispensaries & 25 cultivation licenses.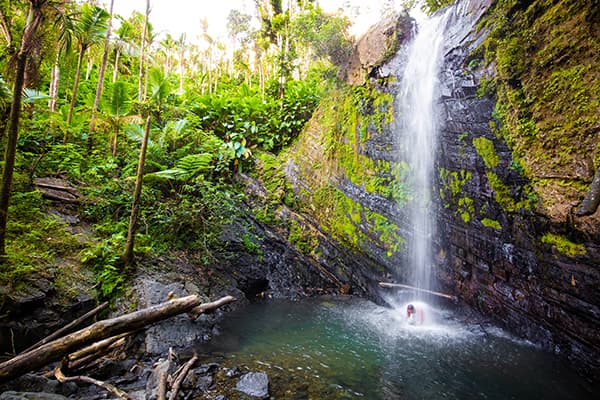 Medical Cannabis is Legal!
Puerto Rico accepts out of state medical marijuana cards!
Just show your card to any dispensary in Puerto Rico and you are all set!
Need a Puerto Rico Medical Card?
Can Tourists Buy Medical Marijuana in Puerto Rico?
Yes! If you are a tourist and visiting Puerto Rico, you can buy medical cannabis. If you already have a medical cannabis card from your state, you are all set. Otherwise it's easy to get a PR cannabis license.
Puerto Rico offers reciprocity for all US state medical card holders. So if you already have a medical marijuana card, you may use it in a Puerto Rico cannabis dispensary.
If you do not have a medical marijuana card, check with our list of medical marijuana doctors in Puerto Rico. Once you have chosen a medical practitioner, contact them at least a month before your visit to PR. They will be able to easily guide you through the process of getting a medical marijuana prescription in Puerto Rico.
Can I use my Medical Marijuana Card in Puerto Rico?
Puerto Rico provides reciprocity for medical marijuana card holders. So if you have a valid medical card from your state, you can use your card in any Puerto Rico dispensary.
Can I Travel to Puerto Rico with Cannabis Products?
No! It is not federally legal to travel across state lines with marijuana. Traveling between medical marijuana between two states that it's legal, is still illegal. Leave your bud at home and buy some local cannabis from a Puerto Rican dispensary!
Do Not Travel with Cannabis!
Traveling to or from Puerto Rico with weed is illegal!
What Medical Conditions Qualify for Medical Cannabis in Puerto Rico?
Puerto Rico has one of the most liberal medical marijuana programs in the United States. With a goal of reaching 100,000 local patients, the government is working hard to promote medical cannabis on the island.

The following conditions qualify for a medical card:
Cancer patients
HIV & AIDS
Degenerative diseases (ALS, MS, etc.)
Crohn's disease
Fibromyalgia
Alzheimers
Arthritis
Anxiety Disorders
Epilepsy
Parkinsons
Anorexia
Migraines
Spinal Cord Injuries
Hepatitis C
Any sign of cachexia, chronic pain, severe nausea and persistent muscle spasms
Also any condition a medical practitioner deems marijuana would be beneficial.
Recreational Cannabis
Is Recreational Marijuana Legal in Puerto Rico?
Currently recreational cannabis is not legal in Puerto Rico. Medical marijuana is still new to the island. With the lack of decriminalization in Puerto Rico, it is unlikely that weed will be legal anytime soon.
Dispensaries & Products
Are There Marijuana Dispensaries in Puerto Rico?
Yes! There are 80+ dispensaries in Puerto Rico. So no matter where you are staying in Puerto Rico, a dispensary is just a quick ride away! If you are looking for a dispensary near your resort we have helpful list of dispensaries for you!
What Cannabis Products Can I Find in Puerto Rico?
All cannabis in Puerto Rico is grown on island! You will be able to find flower, concentrates (dabs, budder, vape, etc), balms, salves, tinctures, and edibles. Puerto Rico cannabis growers have some strains that only exist in Puerto Rico! One of the most unique edibles from Puerto Rico is a THC infused hot sauce!
Marijuana Laws & Legislation
Where Can I Find Puerto Rico Marijuana Laws, Legislation, and Rules & Regulations?
All laws and regulation documents downloads in Spanish.
Puerto Rico Medical Marijuana Statistics
How Many Medical Marijuana Patients Does Puerto Rico Have?
As of July 2nd, 2019:
Puerto Rico has 92,499 medical marijuana patients.
58% Male / 42% Female
952 patients are under the age of 21.
20,302 (21.95%) patients are 61+ years old, including 7,777 over the age of 71
Anxiety (18.85%), Chronic Pain (18.19%), and Depression (11.07%) are the top reasons for medical cannabis prescriptions.
How Many Cannabis Licenses are There in Puerto Rico?
As of May 23rd, 2019
87 Medical Cannabis Dispensaries
25 Cannabis Cultivation Licenses
23 Cannabis Manufacturers
3 Licensed Labs
13 Transportation / Delivery Services